======== PORTFOLIO ========

a long breath [2021]

Commissioned by the Friends of Congress Square Park
set of wind harps installed on lampposts in Portland Me's Congress Square Park

A Long Breath is an acoustic sound installation where several wind harps installed in Congress Square Park generate sound as they resonate with the wind. Through sound, the invisible and ephemeral elements of the wind and environment become palpable. The piece invites listeners to engage in close listening to their environment, and offers a sonic contrast through which community members can consider, and perhaps escape from, internal and external circumstances. A Long Breath is named for the personal and communal experience of spending the last year waiting, and the long exhale that we all hope will follow.








------------------------------------------------------



SOUR SOLVENTS [2020]


︎︎︎ link to video
︎︎︎ link to info


In the essay Minority Histories, Subaltern Pasts, historian Dipesh Chakrabarty defines "subaltern pasts" as pasts that evade historicization by eluding authorization by the so-called "rational" historian. This may be because a past does not produce enough evidence, or the right kind of evidence, to confirm the knowledge that it suggests. Chakrabarty compellingly engages a textile metaphor, describing subaltern pasts as knots in the fabric of history. Even as marginal histories do not become a part of mainstream history (i.e. the knot is separate from the fabric), the subaltern shows us the texture and logics of history.

Sour Solvents responds to the notion that there are multiplicities that exist within, beyond, and despite the histories and realities that we know. This piece does so, using sugar materially and metaphorically to engage the layers of pasts that are absorbed into our present. As Chakrabarty uses the "knot" to describe how we come to know the weaving of history, Sour Solvents plays with notions of dissolution to show the many histories that constitute the present, expanding and critiquing how the past remains, even as we may not always sense its presence.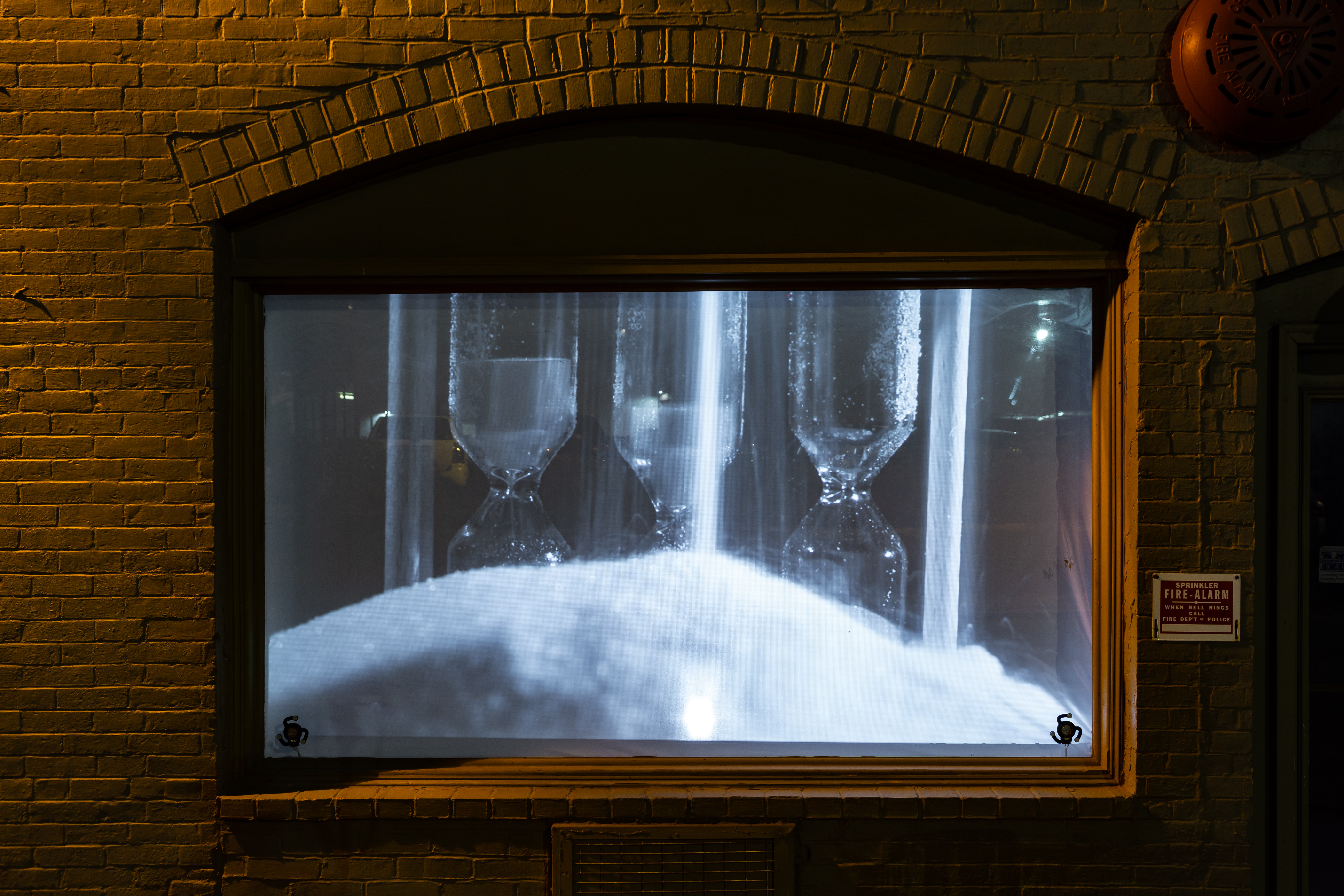 ------------------------------------------------------



ARTIFACT [2019-20]


ARTIFACT is a 9' by 4' woven sculpture/tapestry that weaves textiles and electronics materials into a singular tapestry. At a great distance, it looks like a conventional tapestry, but as one moves closer, the electronic components become more apparent. By bringing together these seemingly disparate materials, the work illuminates the shared technical and labor histories between these materials and technical processes.





------------------------------------------------------


SURACE / BELLY [2020]
web-based / hyperlink multimedia piece


︎︎︎ link to view piece





--------------------------------------------


VANISHING POINT [2018]


slide projector, digital, 8' 18"

Projector slides, the actual ephemera of a personal loss, point to the ephemerality of images in memory as one attempts to recall how things once were. These slides become a vehicle for making contact with the past; a bridge,however precarious and blocked, for surveying a meandering and sometimes dissolving memory.




--------------------------------------------


RAVEL [2019]



Drawing connections between textiles and computation technologies, I used a small loom as an audiovisual interface, weaving live video footage and amplifying the loom using contact microphones and processing the audio. The performance also used archival footage, text, and narrated audio to highlight the gendered histories of spinning and weaving textiles and its complex relationship to the history of computation.



------------------------------------------------------


PIECE FOR FOG SPACE [2018]


︎︎︎link to video

An intimate, site-specific performance in conjunction with Fujiko Nakaya's "Fog x Island" sculpture (Fog x FLO) in Olmsted Park, Brookline MA. The performance was inspired by the tension in Nakaya's work of engineering a material that both shows and obscures its site, of making the invisible conditions of the environment visible and tangible. In this performance, sound vibrates mirrors which reflect the image of the site, subtley shifting its image. The mirrors serve as acoustic sound sources as well, as materials placed on the mirrors vibrate.






------------------------------------------------------


LOSSY RECOLLECTIONS [2018]

16mm & digital, 6' 35"

The present moment makes the idea of the digital synonymous with improvement and permanence. However, encoding and decoding digital information modifies its object, causing data loss. Dwelling in a celebratory and confounding place of imperfect transmission and nonlinearity, "Lossy Recollections," embraces digital regression, using obtuse compression techniques to generate colorful artifacts. The source materials are excerpts of degraded 16mm film - for instance, film that has rotted, or has been bleached away.





======== RESEARCH ========



"Sonic Activism in the Integrated Circuit." Feminist Review vol 127, no. 1. Special Issue: Sonic Cyberfeminisms. ed. M. Thompson, A. Goh. March 2021. Pp 13-19. LINK TO JOURNAL ARTICLE


Book Review: "Switched on Bach, by Roshanek Kheshti & Wendy Carlos: A Biography, by Amanda Sewell." Journal of Popular Music Studies. Vol 33, no. 2. Pp 161-63.
LINK TO BOOK REVIEW


======== STUDENT WORK ========


Jasper Tucker (independent study instructor, thesis advisor)
"In the Dark" - Game Design, Sound Design
LINK TO GAME HERE

Ipek Kosova (course instructor)
Apparatuses
Kaleidoscope

Andrew Jordan (thesis advisor, music production)
"Rain Fall Down"

Val Bravo (course instructor, audio production)
"Digital Raindrops" - audio collage/composition

Oriana Lo Cicero (course instructor, interactive sound)
Untitled - algorithmic composition (used as score for dance composition)

Yuhe Yao (course instructor)
ONE PERSON MEAL - installation with sounding objects
LINK TO DOCUMENTATION HERE